Skip Main Content
Pilates Classes Pittsburgh, PA
Christopher brings over 36 years of experience teaching Pilates to every imaginable type of client. From children to 90-year-olds, Olympic athletes to weekend warriors, and professional dancers to folks just looking for gentle exercise, we customize the authentic Pilates Method to meet your personal needs. We offer the best Pilates lessons in the tri-state region.
Healing Motion is a member of the Pilates Method Alliance and is in compliance with all guidelines for maintaining the highest standards of practice in the industry. Don't settle for a "weekend wonder" instructor that has taken a single workshop and thinks they are qualified to teach Pilates. At Healing Motion, we use all the equipment and mat work to your best advantage. Our priority is to keep you safe, and give you a challenging, enjoyable workout even if you are an absolute beginner.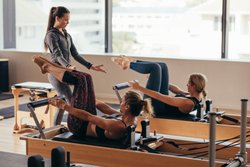 Pilates FAQs
What Is Pilates?
The Pilates Method is a physical exercise program designed to stretch, strengthen, and balance your whole body. Instead of isolating muscle groups, your whole body is trained, integrating your upper and lower extremities with your trunk. Pilates exercises focus on 7 key movement principles:
Postural symmetry
Breath control
Abdominal strength
Spine, pelvis and shoulder stabilization
Muscular flexibility
Joint mobility
Strengthening through the complete range of motion of all joints
What makes Pilates such a valuable exercise is that it's highly adaptable. Rather than having a person adapt to a piece of workout equipment, Pilates can be customized to fit the individual, no matter their fitness or ability level. Concentration and commitment to doing your best is all that is required. Unlike any other exercise system, Pilates develops long, lean muscles and a strong center - the essential ingredients to maintaining good posture and balanced alignment. Even after one lesson, many find they sit and stand taller, move more gracefully, and are eager to experience more.
What Are The Benefits of Pilates?
Improve strength, flexibility and balance
Tone and build long, lean muscles without bulk
Challenge deep abdominal muscles that support your core
Engage your mind and enhance body awareness
Restore postural alignment 
Create a stronger, more flexible spine
Promote recovery from strain or injury
Increase joint range of motion
Improve circulation
Heighten neuromuscular coordination
Help relieve back pain and other joint stress
Correct over-training of muscle groups which can lead to stress and injury
Enhance mobility, agility and stamina
Compliments sports training and develops functional fitness
How Often Should I Do Pilates?
We suggest you begin Pilates by taking five private lessons. In these early lessons, we will modify and adjust the exercises to your own body and teach you to correct any postural problems, previous injuries, or current limitations you may have. 
Initially, you may want to do Pilates every day for better retention of what you learned in your lesson, and become consistent in your practice. The beginning is more about figuring out how to integrate your center and learning the specific exercises, and less about increasing muscle strength and power. As you progress and are able to tolerate a much more intensive workout, we recommend two to three lessons per week.
What Is Pilates Matwork?   
Pilates matwork is a flowing sequence of exercises that are challenging, yet feel good. They effectively integrate breath and movement, core stabilization, and stretching simultaneously. For some, matwork offers an opportunity to slow down and master the method's fundamentals. For others, it evolves into a well-paced, invigorating workout that has the advantage of being completely portable. If you have a strong interest in mastering the matwork in order to practice on your own, let your instructor know so that it is made a priority in your lessons. At Healing Motion, we teach the original Pilates matwork so that clients may accelerate their progress by practicing on their own.